Pickering Creek Initiative
By Bob Heindel • May 2019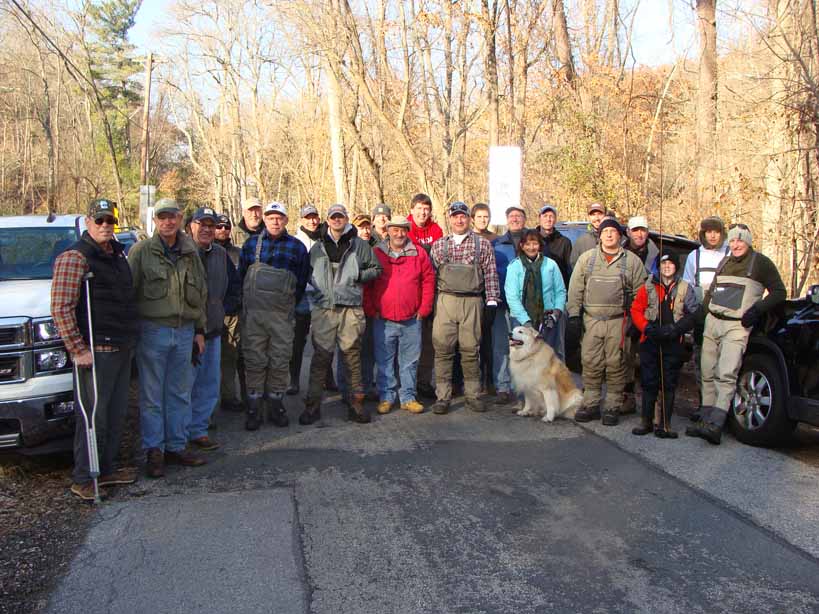 The adoption of Pickering Creek by Ray Neirle TU
I was introduced to Pickering Creek in February of 2012 with Bob Powell and Jerry Martina and was taken in by its interesting pools and riffles and especially by the good fishing and fished it many times that Spring and early Summer. On one of those occasions Jerry and I met a Deputy Waterways Conservation Officer Jim Yerger and had a very nice conversation about the stream. Jim mentioned his concerns about poaching in the area and observed that the stream really needed someone to pay attention to it.
That got Bob Powell, Jerry and I thinking about the possibility of our Chapter "adopting" Pickering as a TU project.
Jim Yerger introduced me to his boss, WCO Bob Bonney who was to become our number one source of information, advice and inspiration in bringing things together. I worked with TU's NJ State Council to ensure that our "out-of-state" efforts were acceptable. I also contacted several of the local TU Chapters, fishing clubs, and conservation organizations to make sure that our efforts weren't stepping on anyone's toes. Finally I was introduced to Mr. Glade Squires a member of PFBC's Executive Committee who was to become very helpful in our whole process.
At a Board Meeting in the Spring of 2013 I presented a proposal for us to adopt Pickering Creek. This included activities such as stream clean up, stocking, trail clean up and stream restoration.
The proposal was enthusiastically received and approved. Andy Brasko, the current President, commented that he had been on the lookout for something we could point to as a positive activity outside of just fishing.
That summer the PFBC announced that their annual fall stocking of Pickering would be discontinued for financial reasons. This opened the door for us to conduct a fall float stocking of our own. Bob Bonney spent a good deal of time with us, walking the stream, and pointing us to the best places to float stock. Bob was also instrumental in obtaining the necessary PA State Biologist's approval for us to stock the steam ourselves.
That fall of 2013 we conducted a stream clean up in October as well as our own stocking in mid November.
2019 is our sixth year. Since the beginning in 2013 our Chapter has conducted:

6 Fall Stockings of 275 beautiful trout

Assisted in 12 PFBC stockings in late winter and spring

5 Stream Cleanups
In 2015 we assisted Jack Kesti, a local student, with his Eagle Scout project, the completion of the Ice Dam Trail running from Pickering Dam Rd. down to Rt. 29. Jack was a Senior in High School then and now has graduated from the USMA West Point on May 25, 2019.
My hope is that the Pickering Project continues for a long time. It is something the entire Chapter can be proud of.
Bob Heindel